Leveraging the Experts: Building on the Best
One of the many qualities I like about the members of the New York State Council on Divorce Mediation (NYSCDM) is that they make ongoing learning and education a career-long priority. Throughout the year, our members come together at various educational events including conferences, symposia, peer groups and webinars to learn new strategies and methods to help couples who are separating and divorcing.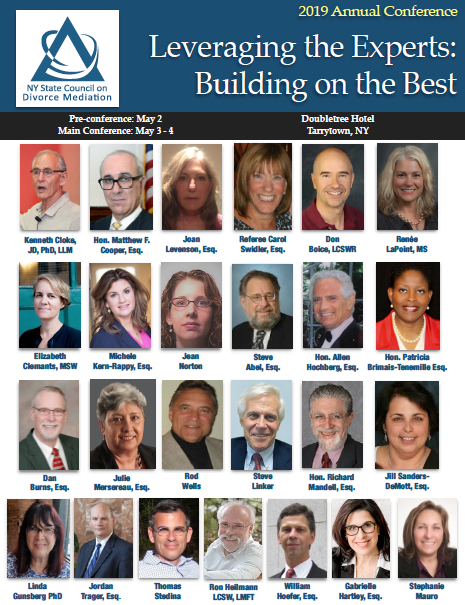 Divorce mediators are specially trained, neutral third parties that help couples by using a voluntary settlement process that gives families the option to plan their futures rationally, and in an atmosphere of cooperation and mutual respect. Divorce mediators help couples can reach agreements that are custom-made and make the most sense for families.
Even though most of our members identify as advanced mediators, they are still committed to ongoing professional development. They want to be the best and do the best to help couples and families during one of the most difficult times of their lives. This dedication is why so many of our members have such depth and breadth of knowledge and have decades of experience helping people create new futures that make sense for everyone in the family.
As a result, we are always challenged to develop educational opportunities for our members that top what we did in the prior year. Last year's annual conference celebrating our 35th Anniversary was difficult to beat, but, for 2019, we think we have put together the best annual conference ever! With the theme of – Leveraging the Experts: Building on the Best – we have assembled regional, national and international experts on a variety of important and timely topics.
We are extremely excited to announce that our pre-conference speaker will be Kenneth Cloke JD, PhD, LLM, world-recognized mediator, dialogue facilitator, conflict resolution systems designer, teacher, public speaker and author. Ken will lead a 5-hour workshop entitled: When Civility Breaks Down: Designing Interest-based Approaches to Chronic Conflicts. In addition, Ken will start our annual conference with his opening plenary on: Designing Questions that Reveal Hidden Dynamics & Release People from Conflict.
Additional plenary and breakout sessions include:
- Anatomy of Divorce: How Mediators and Courts Collaborate featuring: the Honorable Matthew F. Cooper, Esq., NY Supreme Court Justice; Joan Levenson, Esq., Chief of Staff to Administrative Judge for NY County; Referee Carol Swidler, Esq., Head of Post Judgment in Westchester; Jean Norton, OCA Assistant Deputy Counsel for ADR/CIP for NYS; and Michelle Kern-Rappy, Esq., Sr. Settlement Coordinator, NYS Supreme Court
- Spousal Maintenance Under the Tax Cuts and Jobs Act featuring Dan Burns, Esq., Attorney & Accredited Mediator, Burns Mediation; Julie Mersereau, Esq., Attorney & Mediator Mersereau Law Office, Pllc; Rod Wells, Mediator; Steve Linker, Founder and Chairman, Linker LLC
- Annual Update on the Law featuring Steve Abel, Esq., Attorney & Accredited Mediator Center for Mediation and Training, Editor, Federal Family Law
- Magistrates Share Insights on Child Support and Shared Custody featuring: the Honorable Patricia Brimais-Tenemille, Esq., Family Court Support Magistrate, the Honorable Richard Mandell, Esq., Family Court Support Magistrate (Ret.); the Honorable Allen Hochberg, Esq., Family Court Support Magistrate (Ret.); Jill Sanders-DeMott, Esq., Moderator
- Critical Incidents in Mediation: Saving the Process featuring Renée LaPoint, MS, NYSCDM President, Accredited Mediator, The Mediation Center; Don Boice, LCSWR,
Mediator & Clinical Social Worker, Boice Mediation
- Alternative Ways of Dealing with Conflict & Trauma featuring Elizabeth Clemants, MSW, Founder, Hidden Water
- College Planning 101 for Divorced Families featuring Stephanie Mauro, President, College Planning 101
- Power Balancing in Divorce Mediation: Things are not always as they seem! Featuring Ron Heilmann, LCSW, LMFT , Accredited Mediator, Mediation Network of Syracuse, NY; William Hoefer, Esq., Divorce and Family Law
- Better Together Apart: The Five Pillars of an Elegant Divorce featuring Gabrielle Hartley, Esq., Hartley Law and Mediation, Your Elegant Divorce
- From QDRO to COAP and RBCO: Decoding the World of Federal Pensions featuring Steve Abel, Esq., Attorney & Accredited Mediator, Center for Mediation and Training, Editor, Federal Family Law
- What Every Mediator Needs to Know About Parental Alienation: Psychological and Legal Perspectives featuring Linda Gunsberg PhD, Washington Square Institute; Jordan Trager, Esq., Wisselman, Harounian & Associates, P.C.
- Lessons Learned from Divorce Mediations Involving Law Enforcement Officers: Strategies for All Challenging Personalities featuring Thomas Stedina, Director of Divorce Empowered and Smart.
The Pre-conference will be on Thursday, May 2nd, the Annual Conference will be on Friday, May 3rd and Saturday, May 4th, at the Doubletree Tarrytown. For more details, please follow this link. If you are a divorce mediator, family therapist, financial planner or other divorce professional, you will benefit from this high-level educational program and exceptional networking with our very collegial members. See you in May!
Patty Murray, NYSCDM Executive Director
Share this post: